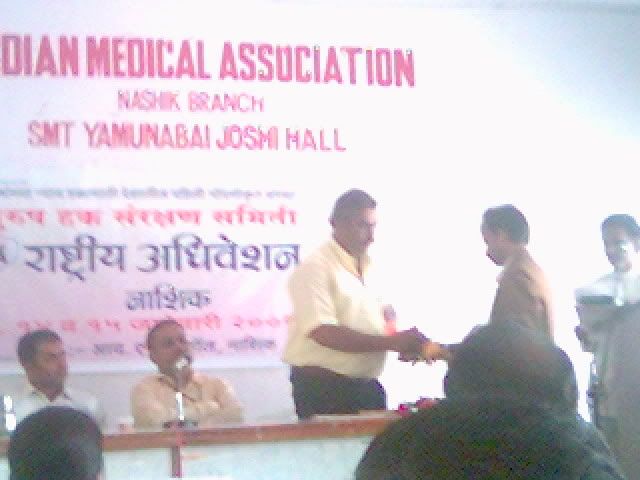 Here are some pictures from the PHSS Seminar Nasik which was held on 15th January 2006. I would like to share my state of mind with respect to our fight against 498a as below. This is an excerpt of my email to my comarades in this fight:
I personally feel that as of now we can share successful strategies in individual cases, and try to replicate that everywhere(using the same 498a and IPC on an "as is, where is" basis)
This where the importance of the the Book of Knowledge(BOK) comes, this concept(Expert system to fight 498a) was discussed in the 498a.org Forums:
http://498a.org/forum/viewtopic.php?p=53&highlight=#53
. Do post your views in there so that we can start to build the BOK or expert system.
Since to change the 498a law is an altogether different ball game, which I would think of as a very meek chance since vested interest would like to keep the law the same as it is, vote banks & merceneries like women organisations(they dont brandish real women issues, they only uphold saleable issues which get them funding, again from vested interests) are the reason. So that would be secondary and at ease, primary focuse being development and replication of successful strategies and promotion strategies. I am ccing this to SIF core for some synergistic discussions/
I will be off air from 21st feb again for a month so, please do keep this in mind.
As bharathi and I was discussing its high time that we have an All india meet in Mumbai(or Delhi) to forge some concrete action plans(we need to discuss those on email and bring it to some shape , before we meet in person- for better effectiveness).
laters
GokulPS: I feel that by now we must have got enough forms filled , to run some statistical analysis. or design some questionnaires suitable for running Factor analysis, cluster analysis and other statistical tests, which can be the first steps to establish some scientific basis for the "need for change".
I am also uploading some more photos from the PHSS seminar and 2 snaps of India's first fully 498a'ed village which we found enroute to Nasik while travelling towards the Seminar venue, courtsey of this find goeas to Vinod Patil whose wife is from this village, as per him the girls of this village are all back from their marital homes after firing 498a Scuds on their husbands families, in hope to live happily thereafter!. What is this world coming to!.
But lets not sit quiet and suck it up, lets do all thats in our rights to do, if needed all whats not too!, if it comes to that.

Cruising later Deep